May 30th & 31st, Save 6% Off Select Farrier Tools
Hoof Testers, Clinch Blocks, Clinchers, Infrared Thermometers, Shoe Spreaders and Fly Spray
On Sale This Weekend!
HOOF POWER FEED SUPPLEMENT
SPECIAL SPRING PROMOTION!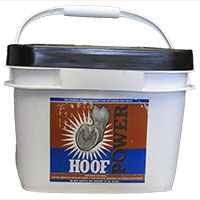 11 lb bucket for only $24.99 OR

Better still, buy 2 for $49.98 which is $13.77

Lower cost than our 22 lb bucket price

DEALS
SHIP TO THE BORDER
The USA is one of the most efficient markets in the world. Consequently prices in the USA are generally lower than many other countries. Many Europeans and South Americans come to the USA just to shop. At Centaur Forge we have many Canadian and Mexican customers who enjoy the lower Centaur Forge prices and shipping costs. To facilitate this activity Centaur Forge has a "Ship to the Border" program for both Canada and Mexico.
FOR CANADIAN RESIDENTS:
Click HERE for more information.
PARA LOS RESIDENTES MEXICANOS:
Haga clic AQUI para obtener más información.
FOR ABANA MEMBERS:
Provide us with your ABANA Membership number and receive 5% off your total purchase.
NEW FARRIER SCHOOL GRADUATES:
Send us a copy of your certificate from an accredited school and get 8% off for 3 months after your graduation date. *** These discounts cannot be added to any other sales promotions. Please call 1-800-666-9175 for complete details.
SAVE EDGE 14 RASP
$21.99 each 6 or more for $20.99 HERE
LOWEST COST in North America - ONLY at Centaur Forge
DID YOU KNOW?
Centaur Forge has the most extensive line of coal and coke forges in the world all of which are designed and manufactured in Wisconsin.